Quizizz is a gamified check for understanding and formative assessment ed tech tool. Find and create free gamified quizzes and interactive lessons to engage any learner.
We have Quizizz Pro to pilot District-wide K-12 from November 2021 - March 2022. If all goes well, we will look to do a 3-Year agreement that would include the rest of this school year (April-May).
You can find Quizizz App in the MCS App Portal (in the Check for Understanding Folder). Make sure to use your District email address and password if asked to sign in.
Once you login to Quizizz then in the top left corner you will see your name and below will say "Schools & Districts account" this means you have Quizizz Pro!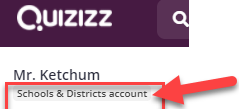 With Quizizz AI, you can create quizzes in under a minute!
Whether you're looking to create a formative assessment on integers for Grade 6, or a quiz for your AP Physics class, Quizizz AI is with you every step of the way.
All you need to do is upload a file or paste a link to a webpage, and voila! Quizizz AI will automatically generate questions from this content and create a quiz for you. You can then personalize and enhance the quiz in as many ways as you'd like.
How to Use

Quizizz Pro with Schoology
Step 1
Teachers: Adding Schoology Class to Quizizz
Step 2
Teachers: Assigning Quizizz to Schoology
Step 3
Students: Student Completes Quizizz in Schoology
Step 4
Teachers: Quizizz Pro Grade Passback in Schoology
Quizizz Pro has several features we are excited for you to try out including:
There is a known bug in Quizizz where students can score more points than possible on Quizizz Schoology assignments. The Quizizz engineers are working on the issue. In the meantime, please manually override the scores in the Schoology gradebook.
We will have integration with Quizizz Pro with Schoology. For this to work just make sure your Primary Email in Schoology Settings is the @monet.k12.ca.us email address. Here is a video how to check and fix if it is not.
Linked Sections
Currently, Quizizz does not support linked sections in Schoology. However, you can still use Quizizz with your linked sections! All you have to do is treat your linked courses like separate courses and create a Quizizz assignment for each individual section. The video above shows the process of how to assign and identify which Quizizz assignment belongs to which section.
Categories
When creating assignments with Quizizz Pro, Quizizz is "helpful" and creates a new category called Quizizz and assigns that category to all of your Quizizz activities. However, if you sync grades, this can cause an issue because the Quizizz category is not mapped to any PowerSchool categories. You can fix this in one of two ways:
You can edit each Quizizz activity and manually change the category from Quizizz to one of your existing categories. The Bulk Edit feature in Schoology can make quick work of this. However, you will need to remember to make that change for each new Quizizz activity, which means slightly more work for each assignment.

You can map Quizizz to Powerschool, which will allow it to sync. From Schoology, access your PowerSchool configuration and choose which category you want to map Quizizz to. Bonus tip - you can double up categories! Check out the video above to learn how to add another Schoology category to an existing map. The benefit of this is this is a one-time fix and all your assignments will sync.